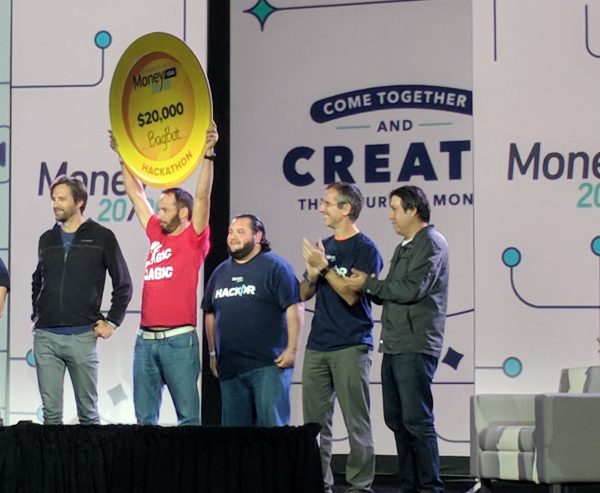 Over the weekend, the team at Flomio had the opportunity to participate in the Money 20/20 Hackathon. 500 of the brightest minds in FinTech gathered in a ballroom at the Venetian in Las Vegas for a 24 hour all-night code fest. With over $125,000 in prizes on the line, the competition was fierce, so we were honored when our entry, BagBot, was selected across 120 teams as the winner.
BagBot made use of the Synchrony Financial's pioneering APIs to bring the type of suggestive selling that consumers currently only enjoy while shopping online directly into the store. Flomio leveraged the experience gained while working on projects such as Visa's SmartCart to build an RFID-enabled shopping bag that could suggest additional items to shoppers as they shop.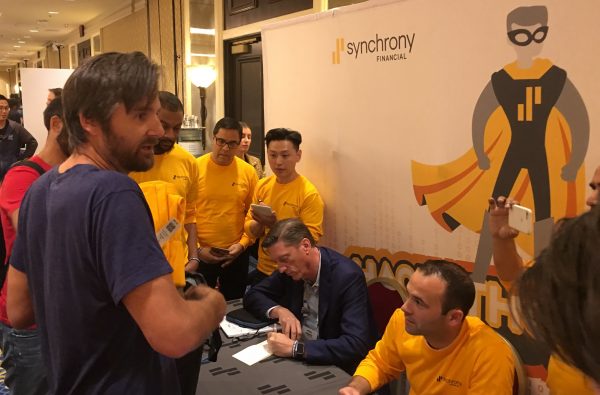 Synchrony's goal is to leverage AI to pour over the vast amounts of data they receive from their retail partners to better predict what a shopper is going to purchase next. BagBot used their loyalty and next_purchaseAPI endpoints to give shoppers intelligent suggestions and relevant discounts as soon as an item was placed in our shopping bag.
Bagbot is a great example of how shopping should be in the 21st century. It combines cutting edge sensor technology, mobile and AI to deliver a customer experience that delights. The customer journey begins with pairing their phone with the smart shopping bag by tapping their mobile phone to it. Then placing any item in the bag will be scanned and relayed to their checkout list. The BagBot then surfaces targeted rewards and related items to drive sales lift. Payment is taken directly in the app and items are taken out of inventory. This avoid loss prevention portals from alarming on exit.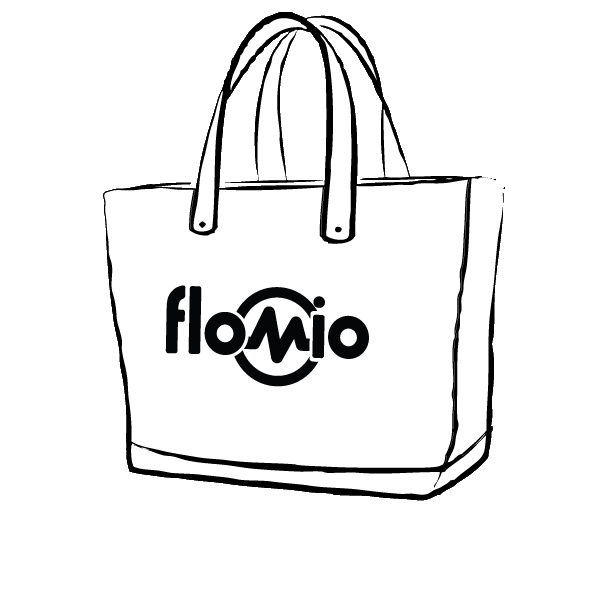 The BagBot hardware features a two part design comprised of an insulated shopping bag and a magnetically detachable scanner module. This approach allows shoppers to own their bags and avoid a re-bagging step before leaving the store. It also reduces the total cost of ownership for the retailer since they only need to cover the scanner modules that get recycled. Lastly, the same loss prevention and inventory control technology common in retail today is directly compatible with the BagBot hardware. So the system can be easily retrofitted into existing retail stores without massive infrastructure changes.
We wanted to give a big thanks to everyone at Money 20/20 and the team at Synchrony Financial for their inputs and support. We look to pilot the solution with retailers in 2018 and report back our learnings at the conference next year.
– Richard