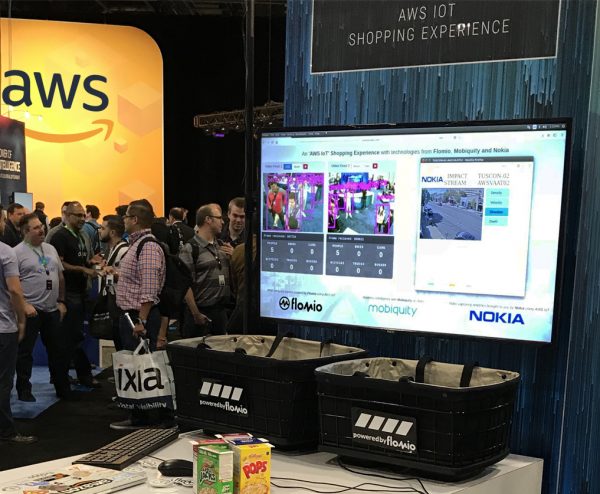 Last week we announced our latest retail innovations alongside Amazon at their AWS re:Invent conference. An event filled with technology experts, it was a great place for us to introduce our SmartCart system. We got feedback from hundreds of developers including some involved with the AmazonGo store. Like AmazonGo, we aim to deliver the same –a streamlined purchase experience where shopper convenience is paramount– but with a different approach. We believe we can offer merchants a retrofit solution for their existing stores whereas AmazonGo is building their stores entirely from the ground up. What's great is that we're both built on the same AWS serverless infrastructure with flexible service options and endless scalability.
Flomio's SmartCart system offers product discovery, inventory control, loss prevention, and payment as independent components so that merchants can phase them in as they see fit. The system centers around the SmartCart –available in several modalities— and a mobile app. Similar to AmazonGo, the SmartCart technology detects what products shoppers put inside it and reflects this activity on the their mobile device. If shoppers remove products from their SmartCart, these are removed from their checkout list and their running total is updated. Once they are ready to pay, shoppers can do so directly from their mobile device and without having to wait in any lines. Here's a live demo from the conference that captures the experience:
Unlike AmazonGo, the SmartCart system can be deployed in an existing store with little operational impact or infrastructure upgrades. Products need to be tagged and integrated with the store's inventory backend, but after that SmartCart checkouts can take place alongside traditional register checkouts. SmartCarts will be able to track shopper activity and location throughout the store, so they can work in tandem with loss prevention portals to reduce shrink. And that's just the beginning.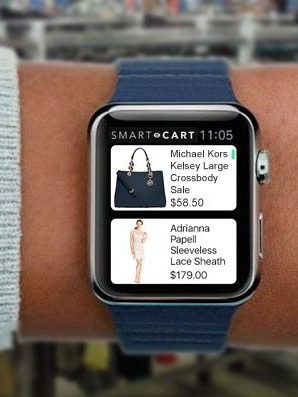 Since the SmartCart app knows what shoppers are buying, it can also vastly improve product discovery and drive sales lift for merchants. Shoppers get suggestions on great add-on products and instructions on where to find these in-store. All this happens instantaneously while they are still actively shopping instead of –after the fact– at the checkout counter.
The SmartCart app leverages the AWS IoT infrastructure to capture –in real time– streams of shopper activity in the cloud. Once analyzed, this data can deliver new insights for merchants as well as open up new revenue channels. For instance, it could be used to train machine learning models that reduce cart abandonment, improve forecasting, and even institute dynamic pricing. At our re:Invent talk ATC304 – RFID Advertising, we introduced the concept of a new Ad Unit where product suppliers can sponsor suggestions. These techniques have proven very successful in online commerce and are now possible in physical stores.
Flomio is to Android like AmazonGo is to iOS
At Flomio we have always embraced an open ecosystem of tools and services that allows developers and enterprises to build solutions that best fit their needs. This is similar to how Android opened their platform in the smartphone industry and Comma.ai aims to do it for self-driving cars. Companies like Apple, Tesla, and Amazon have the luxury of building closed product ecosystems, however our strategy is to fill the void they create in doing so.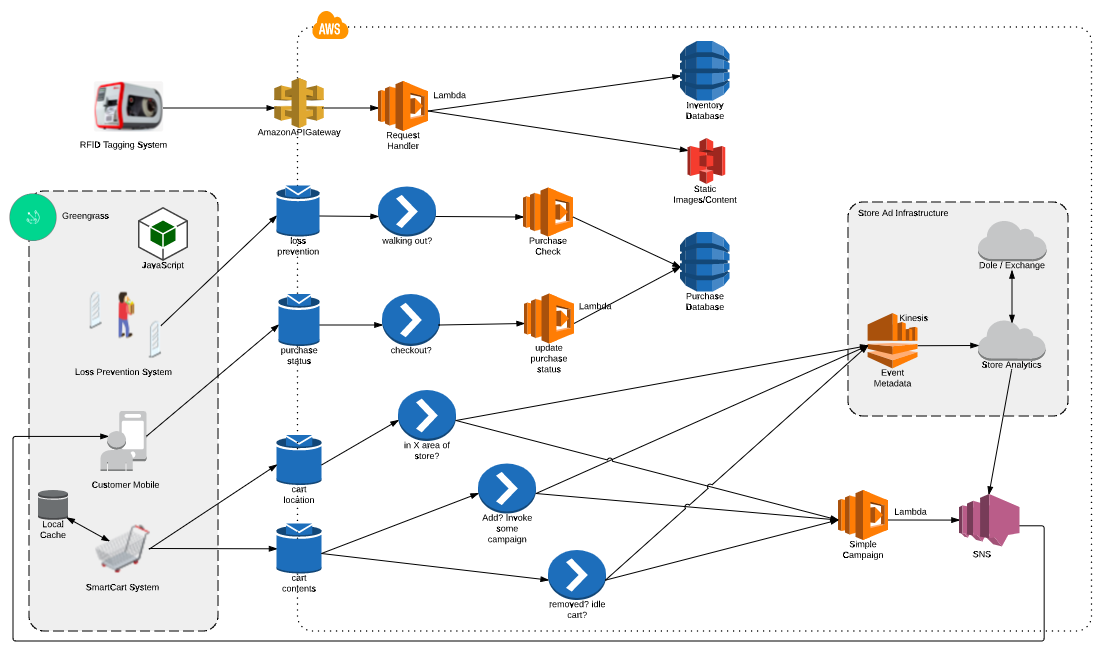 At AWS re:Invent we disclosed all of the details of our retail platform architecture and are illustrated here (right). Our SmartCart app is available for any merchant to white label and use with their customers. It's built onour mature Flomio SDK for easy integration with different SmartCart hardware as well as tagging and loss prevention systems. We are have pilots planned with merchants in early 2018 and presenting our lessons learned at RFID Journal Live on April 10th. If you're interested in participating and have stores located in the Miami area, please let us know.