Hey FloJack fans,
We have lots to to report from Flomio HQ. First for some good news:
NFC Actions for iOS
The NFC Actions app has been APPROVED for distribution in the Apple App Store! You can download it for free later this month.
This is a major milestone for our Kickstarter campaign. One of our principal goals was to design and ship the first Near Field Communication app for iOS… ever. That's right Kickstarter, our campaign just made history!
FloJack Mechanical
More good news on the mechanical front. The FloJack injection mold is finished and has begun pumping out cases in mass! Check it out –
The mold is composed of two plates known as the core and the cavity. The cavity, pictured above, is pumped full of  ultra hot, melted plastic then quickly cooled to allow the part to harden and take its final form. It also has a number of actions, separate components that  push in and out of the mold to create complex designs like overhangs and undercuts.
This complementary piece is known as the core. It connects with the cavity and creates a pressurized seal that shapes the flow of melted plastic. (The red ink you see was applied during the EDM machining process to make the precision burns more visible)
Machining the mold was far from trivial. It took five weeks to machine and at $15,000 it was the single most expensive item in our production budget. The good news is the mold is made from very tough aluminum and will allow for 10,000 FloJacks to be produced before wearing out.
If you want to learn more about machining or injection molding check out these cool videos:
How molds are made
Injection molding in action
Batteries, Ferrites, and Interns
We received our shipment of batteries, more precisely one thousand CR2032 coin cell batteries.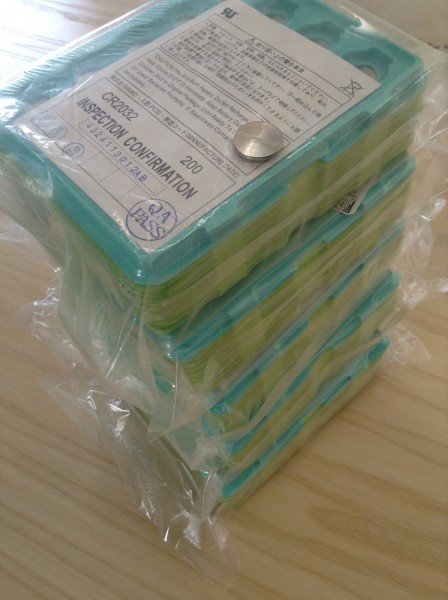 There's enough juice in these packages to power a FloJack for over 5,000 years!

Above is the final schematic of the ferrite material we're including in each FloJack. The ferrite insulates the RF antenna from the circuit board allowing the tag sniffer to calibrate without interference. We designed a custom die to cut the material into the precise size needed for a snug fit in the FloJack case.
The Flomies have a summer intern helping with the project. His name is Uday and he's a brilliant electrical + computer engineering graduate student from Purdue University. He thought he'd be helping the Flomies innovate the next generation of lower power NFC solutions… but apparently we just have him carrying around FloJack boxes.
FloJack Production: Less Good News
Unfortunately we also have less good news to report. We've been hit by delay after cruel production delay.
It started when one of our component shipments was tied up in Malaysian customs. We were able to free it up after a day or two but with a production schedule as tight as ours even a minor slip can cascade into a major delay. Because the components were late we missed our production slot which shifted back our timetable by two weeks.
We're working  with our manufacturer to come up with a creative way of expediting the run. At a minimum we're trying to secure a batch of sample units and begin the preliminary quality control process in parallel to the production run.
Due to this latest delay we're predicting FloJack will begin shipping by the end of June.
Conclusion
Our team has made a ton of progress. We're SO CLOSE to shipping; it's painful. We're excited because it looks like smooth sailing from here on out…
We're mere feet from the finish line! And as usual we thank you, our backers, for your continued patience and support.
 Thanks
-John and the @Flomies