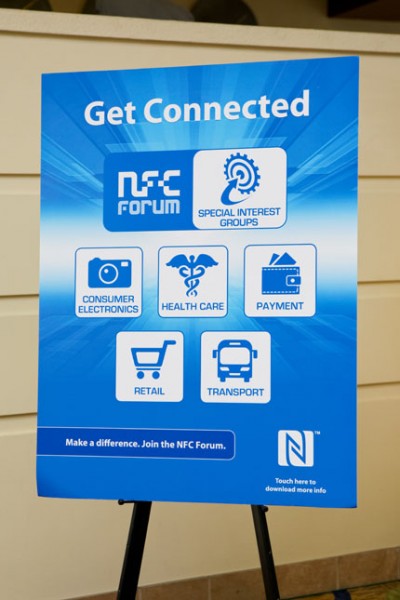 I just got back from the NFC Solutions Summit. It could have easily been called the BLE Solutions Summit though. Payment and non-payment enterprise leaders are scrambling to keep up with the rapidly changing consumer mobile landscape. I spoke to several CIOs and SVPs at companies like Advanced Card Systems, HID, Tyfone, ABnote, and Xerox and their interest in BLE was astounding. It's understandable since most of the applications being talked about aim to improve context relevance more than transactions.
Take a Retail experience, for instance. It's more interesting for me as a shopper to expedite my search for stuff than it is to expedite the checkout process. For that BLE is much more effective than NFC. A well designed BLE solution can help shoppers with personalized product suggestions as well as navigating the store. Like browsing online, BLE acts like a session cookie and seamlessly brings in-store all the benefits of search, history, comparison, and feedback via your mobile device. The key here is that in today's world deciding what to buy is much more time consuming as buying it.
That's not to say that speeding my checkout isn't valuable to me. It's a logical next step to have NFC enable the proverbial "one-click" in-store that Amazon got us to love online. Along with coupon collection and beautifully laid out planograms, NFC stands to add the necessary polish for an awesome in-store shopping experience. The key here is to achieve frictionless trust, and no technology does that better than NFC.
Trust Me.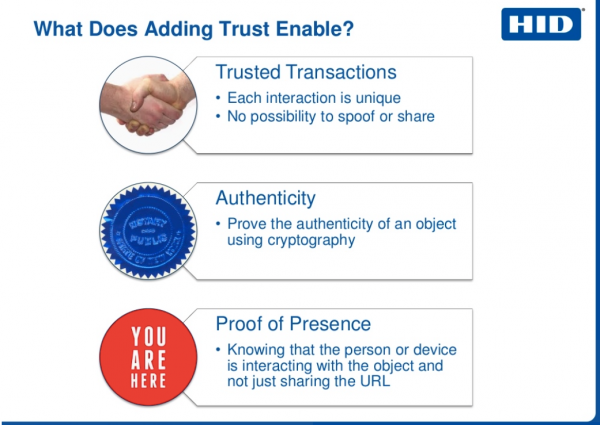 In order to enable a trusted transaction in the physical world, you need to establish Presence (you are where you say you are), Authenticity (you are who you say you are), and Trust (you are transacting over a secured link). It's the only way that a 3rd party authority (e.g. payment network) can be confident that customer and merchant agreed to transact. As these conditions weaken, the risks of fraudulent activity rise. This is why credit card companies charge less for card-present payments, because card-not-present ones (e.g. ecommerce) are more expensive to protect. For instance, Paypal charges 2.70% for card-present payments and 3.5%+$0.15 for card-not-present ones. BLE will have to prove itself to securely capture Presence, Authentication, and Authorization. Implementations like Paypal Beacons and Square Order are experimenting with face checking and/or BLE to score consumer adoption but friction is still high. Changes in the purchase workflow often leave customers and merchants confused about the checkout protocol. In either case though, payments are processed at the higher card-not-present rate so merchants will lack incentive to implement them.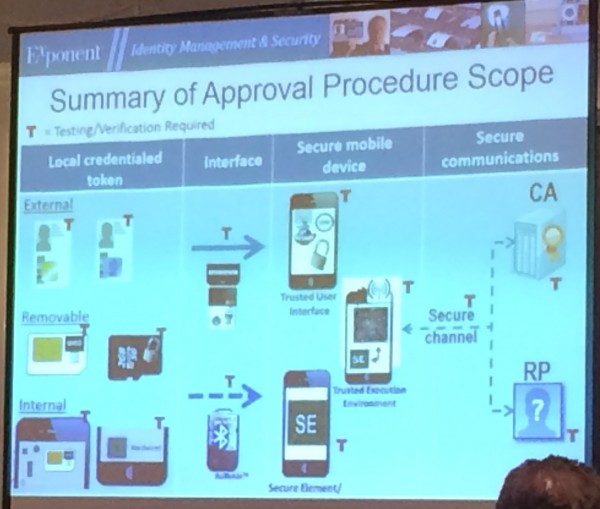 NFC delivers the battle tested security that payment networks approve of. This took years to achieve since the attack surface for such a distributed model is so vast. In the case of BLE, this surface is even more vast. Testing each one of the links is crucial for the overall integrity of the solution and will prove tough for BLE to certify. In addition, NFC offers the unique advantage of securely presenting payment credentials even when you're out of coverage or your phone's battery is dead. It's not likely BLE will ever be able to support this functionality despite Apple's efforts.
At Flomio, we're committed to making the digital physical and see NFC+BLE working in unison to achieve this mission. Our hardware, mobile app templates, and cloud infrastructure provide drop in functionality to build customized end-to-end solutions quickly. As we finish the FloBLE, we will shift focus to opening up our cloud interface to web developers and adding in trusted execution environment (TEE) support to our mobile apps.
For more information on the convergence of NFC+BLE, check out these white papers:
Mobile Payment Transactions: BLE and/or NFC? – Swen van Klaarbergen, UL
Bluetooth Low Energy (BLE) 101 – Smart Card Alliance
Also worth reviewing are the presentation slides I gave at the conference:
NFC Solutions Summit – Technical Resources, What Tech Works Slides
NFC Solutions Summit – Go To Market Strategy Slides
– Richard and the Flomies.