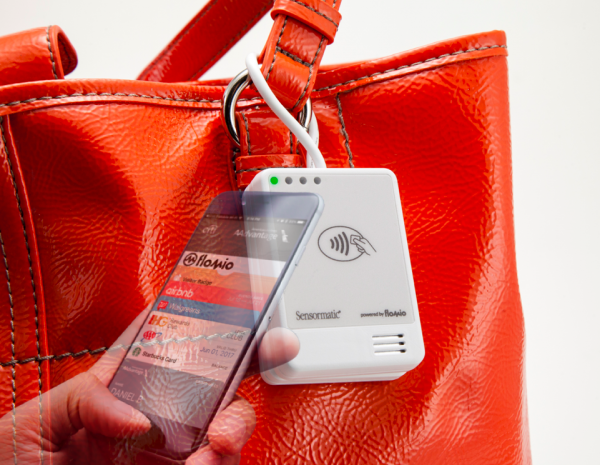 Have you avoided going to a store lately because it's just not worth the hassle? Unsure you'll find what you need and if you do, unwilling to wait through checkout lines?
It's no wonder shopping online is often the best option. At Flomio, we think we can change that. We've worked with the leaders in payments, loss prevention, and security industries to design the EASyPOS; a product so innovative, that it stands to fundamentally redefine the retail experience.  In fact, it makes shopping so easy, it feels like you're shoplifting!
What's an EASyPOS?
EASyPOS is an item level point of sale. A light weight terminal that connects wirelessly to the payment network to securely process transactions and unlock from products for consumers to take. EASyPOS is the first of its kind and though placing a POS on every item may seem impractical, it offers several advantages. For one, the device is able to monitor its location with a high degree of accuracy, guiding shoppers directly to the products they seek and consistently delivering positive purchase experiences. Also, inventory accuracy is all but guaranteed so omnichannel commerce and other popular retail trends are supported. Finally, EASyPOS has lights and sound alerts to enable smart filtering and encourage impulse buys.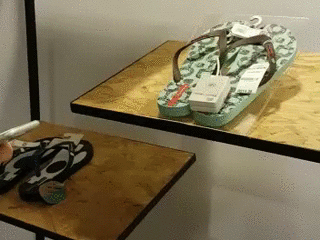 How do I use it?
Using the EASyPOS is —in fact— "easy". Follow these steps to complete your purchase:
Grab the product you want to purchase.
Place your Contactless Payment credential on the surface of the contactless payment logo and wait for 4 LEDs to blink green. EASyPOS is now disarmed.
Slide apart the magnetic halves and remove from your purchase.
Place EASyPOS in the drop-off bin on your way out.
How is it built?
The EASyPOS was built by Flomio in collaboration with Visa, Tyco Retail
Solutions (Sensormatic) and NXP Semiconductors. It operates at very low power while actively monitoring for payment engagements, remote notifications, tamper attacks, and location changes throughout the retail environment. Smaller than a deck of cards, the EASyPOS is a payments certifiable device that leverages the hardened security and miniaturization advances of NXP. It is split into two assemblies, the top hosting active components like the freakishly loud 90dB speaker and the bottom containing the wireless recharging power system.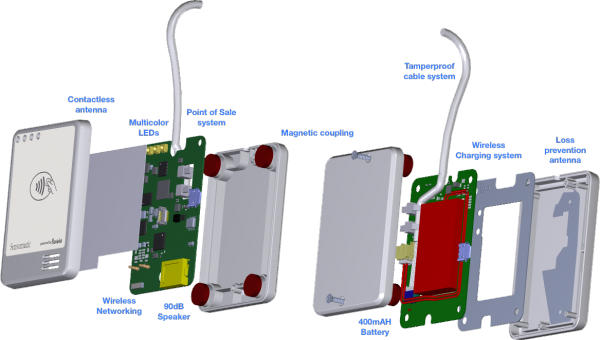 How secure is it? Will it prevent theft?
The EASyPOS achieves strong security without adding purchase friction by leveraging an established tamperproof design and adding sensor fusion and machine learning software. As a secure IoT device, it forms a self-healing network with neighboring units to monitor it's location, movements, and physical health. It connects to the AWS IoT backbone to easily integrate with in-store surveillance systems like cameras and other loss prevention infrastructure. For instance, if the customer attempts to exit the store without removing the EASyPOS then Tyco's Synergy portals can detect that and sound the alarm(s). In the same vien, if a customer removes the EASyPOS while armed (product unpaid) then the unit will alarm along with notifying the in-store staff via the local network. If the customer pays for the item but fails to drop off the unit in a recharging bin, then a lower priority alert can sound and if needed, the merchant can charge a fee for the cost of the EASyPOS itself.
How can I add it do my store?
The EASyPOS integrates with merchant inventory systems and payment processors to provide an awesome purchase experience to consumers. This requires a few infrastructure elements that we are happy to assist merchants in adopting. We are currently working with large retailers planning pilot deployments and are streamlining a lot of these activities. Because of the flexibility of the system, you don't have to have an EASyPOS on every item in your store. You can effectively phase in the solution starting with high value or high demand items and work your way throughout. The benefit of having more EASyPOS devices on the floor is increased location accuracy for seeking a product or filtering across a bunch of products in sight.