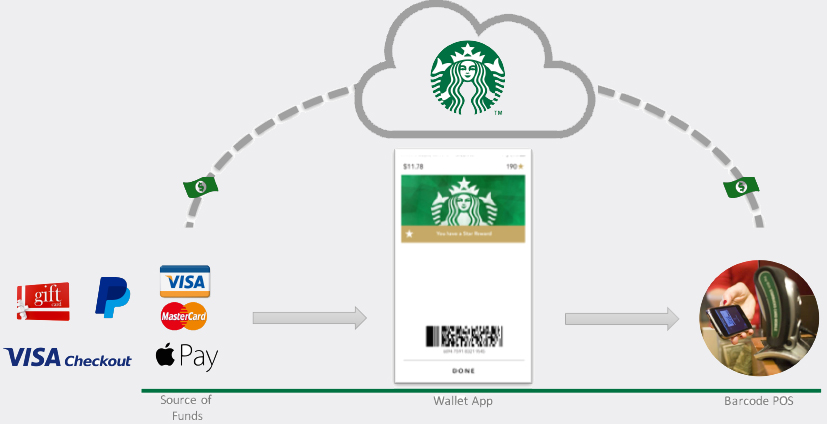 Barcodes have been around for decades but strangely enough, the use of barcodes in mobile payments have only recently been picking up. Starbucks has been a pioneer in mobile payments using barcodes. Walmart and CVS have recently introduced a similar solution. Because of the embedded cameras, smartphones have been always capable of reading barcodes and that is one of the main reasons why barcodes are so ubiquitous.
83% of North American consumers are aware of QR codes
Source: BrandSpark International
1 in 5 smartphone users have scanned a QR code with their mobile device
Source: MarketingCharts
Smartphones can display and read barcodes, which enables multiple options for defining the user experience (UX):
– Displaying barcode: The barcode is generated by the app, and it usually contains the user ID. For an in-store payment, the user opens the app on the smartphone, navigates the menu to display the barcode, and then presents the screen to be scanned at the register. Starbucks uses this approach.
– Read a barcode: The app reads a barcode presented by the merchant. The user opens the store app, launches the camera within the app and scans the code presented by the store. Walmart uses this approach.
Main drivers of the barcode popularity
The proliferation of smartphones capable of reading and displaying a barcode is one of the main drivers, but there are others:
Barcode readers are less expensive than NFC readers.
Barcodes are easy to generate, print or display on a screen.
The adoption of NFC-enabled smartphones has been slow.
NFC-enabled ecosystem is complex and has numerous stakeholders.
Based on this, it makes more sense for companies to adopt barcodes for mobile payments. However, and despite their popularity, barcode technology is not the best solution; the UX is subpar and, most importantly, barcodes are not secure (on-screen barcodes could be replicated with a simple screen grab).
Even though barcodes helped to build the bridge between store apps offering loyalty rewards and payments with electronic payment methods, such as credit cards and mobile wallets, their shortcomings called for another solution.
Adoption of NFC on Payments.
Contactless payments (NFC-based) seem to be taking off, driven by Apple, Google, and Samsung Pay, which offer a different solution compared with barcode systems.
In-store barcode payments are closed-loop payments. They are all proprietary solutions that help the store to include loyalty and payment in the same transaction.
NFC is a more robust solution than barcodes, and definitely more secure. The NFC Forum Survey says that, as users get familiar with NFC, they favor it over barcodes. Using NFC, transactions are faster, easier and more secure.
The previously listed circumstances that helped barcodes to become popular have held true until now, but things are changing:
Contactless readers are becoming more affordable
NFC-enabled ecosystems have become simpler and they can be integrated with other existing solutions.
Other drivers that will help accelerate the adoption of in-store NFC-enabled payments are:
–Daniel Baudino